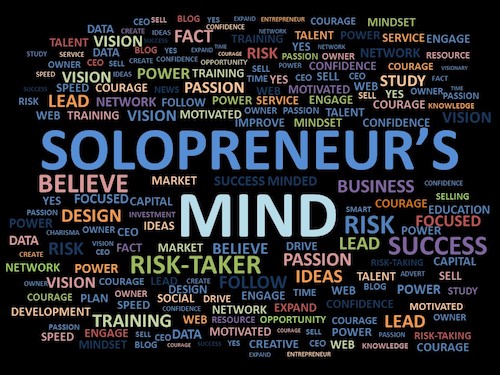 Solopreneurship – A Soul who decides to be Solo Entrepreneur
Are you tired of working at a managerial level from past several years? Are you afraid that the mundane daily work is killing your higher aspirations? Then finally the time has arrived when you can start planning your future of 'Being on your Own'. Once you decide to start the venture suddenly you realise that you are no longer interested in working along with the team. You want to chase your dreams alone. So is this feeling weird?? Absolutely not. Welcome to the world of Solopreneur!!
So what is Solopreneurship? According to Urban dictionary "An entrepreneur who works alone, 'solo,' running their business single-handedly. They might have contractors for hire, yet have full responsibility for the running of their business."
Solopreneurs have an inherently entrepreneurial mindset, and they prefer single-handedly managing their business. So how Solopreneurship is different from Freelancing and Self – Employed?
Solopreneur and Entrepreneur have many things in common, but differ in a few very specific and important ways. As a solopreuneur, you will be not looking at launching or starting a venture that will be the next great big idea we are definitely not looking for investor funding. But, as a Solopreneur, we will be aiming at building small, sustainable, micro-businesses that will enable us to trade the money I make for actual freedom. Solopreneurs have 100% Total Creative Freedom, Autonomy, and Independence
While Solopreneurships are intentionally solo ventures, most Solopreneurs need help to complete their ventures. Still, they don't want to hire employees. Instead they take help or support from other Solopreneurs!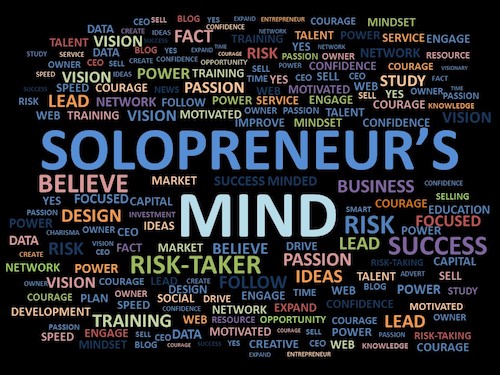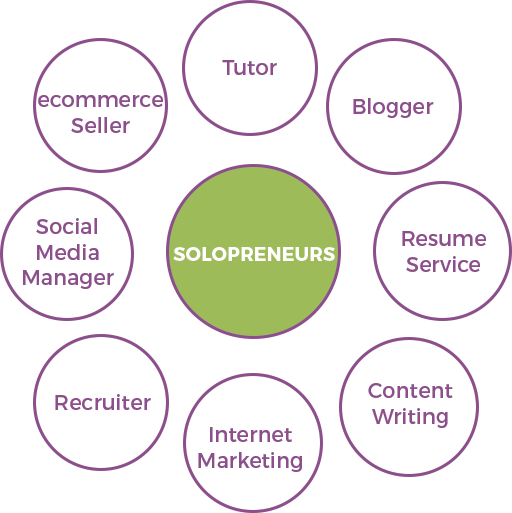 Following are the areas in which Solopreneurship will bring a great success (defiantly hard work is always a bottom line). Following are few business ideas to start your journey as a Solopreneur –
Virtual Assistant

– In today's virtual world instead of hiring a secretary for one person now a days company are preferring a Virtual Assistant who will handle various tasks for businesses like email, scheduling and social media management. It's something you can do on your own and from your home or another remote location.

Ecommerce Seller –

you can either set up a Ecommerce seller either by setting your own site or selling the products on the websites like Amazon, Shopclues, FlipKart etc.

Social Media Manager –

You can offer your services to other companies to schedule their business media posts

Blogger –

In India from past 4-5 years blogging has picked up its space. You can build your business around your writing skills.

Recruiter –

You can get be a recruiter and can work from a diversified client on a PAN India level. There are also several franchise options are available in the recruitment industry which provides you fixed set of clients on a monthly basis.

 

Tutor –

If you're looking to share your knowledge with others, you can do so on a one-on-one basis by working as a tutor. You can either be a tutor for school or a college level. Nowadays several brands are also offering franchise opportunities in the Educational field

Jewelry Designer –

You could also create your own jewelry and sell it at local craft fairs or on sites that specialize in handmade goods like Amazon, Myntra, Ajio etc.

Resume Service –

You could help job seekers create and improve their resumes and cover letters.

Self Publishing / Content Writing / Copy Writing  –

could offer your writing services to other businesses looking for blog posts or other types of content. Even Copywriting is another popular writing business. You can specialize in writing copy for websites, product descriptions or even advertisements.

Life Coach / Business Coach –

If you have some business expertise, you can offer your services as a business consultant, working with clients in person, over the phone or online. Even if you don't have a lot of business experience, you can work with clients on other areas of life like finances, organization and even personal relationships as a life coach.

  

Affiliate/Internet Marketing –

Affiliate marketing allows you to share links to specific businesses or products and then earn a portion of the sales you direct to those companies.
So when you are all set to start your Solopreneruship journey following are few things that you can remember –
The only way to build a real business is with patience and perseverance. It's all about taking tiny steps each day.

There aren't Real Business, Real Wealth and Overnight success

You don't need to have a complicated product/service or a business process. Always try to stay focused.
So we wish you all the very best to start your Solopreneur journey.