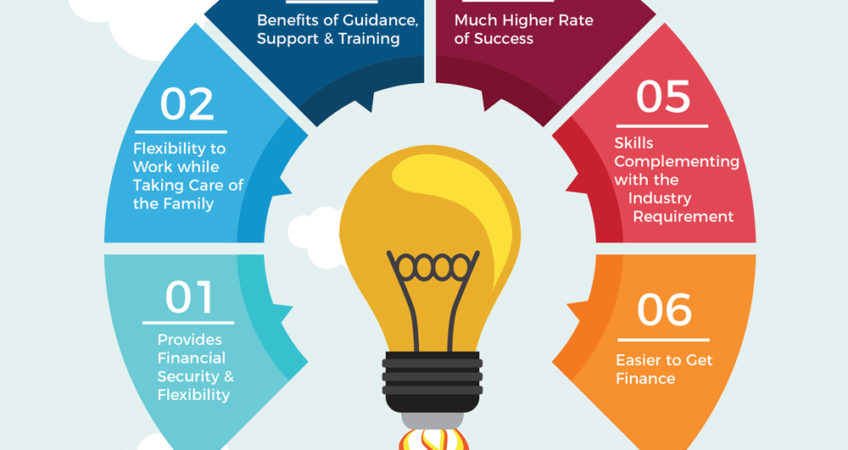 Why is Franchising a good career option for Women?
Top reasons for women to consider Franchising
A franchise is essentially a fully functional business concept with established and well-documented plan that works. For all the budding female entrepreneurs who want to start their own business, buying a franchise is a way out to achieve success. Here are a few reasons why considering franchise opportunity is a viable option for womens:
Provides Financial Security & Flexibility
Setting up a franchise means that they can be their own boss and can fit working hours into times that suit them and their lifestyle. The franchise offers a career that provides both financial security as well as flexibility.
Flexibility to Work while Taking Care of the Family
Many women take a break from their respective careers to focus on their family. Most of these women wish to get back to work, but they also want the ability to work along with taking care of their families needs. Taking up a Recruitment Franchise Business can help them to balance both family and career.
Benefits of Guidance, Support & Training
Women who have taken a career break often find that their focus has changed from work to family. After the break, they often find that they have lost confidence in the skills they mastered earlier. Investing in a franchise allows them to start afresh. Investing in a franchise allows you to reap the benefits of guidance, support, and training from the franchisor. Since the franchisors are required to provide exhaustive information about the business you have a clear picture of what you are getting into.
Much Higher Rate of Success
The best part of franchising is that they have a much higher rate of success than the independent start-ups since their approach has been tried and tested by the franchisor. There is less risk involved as franchisor will always be there to readily help you out of it, since he has already faced such situations successfully. This is the reason franchising is becoming a popular option for women.
Skills Complementing with the Industry Requirement
Women today are better skilled and goal oriented that men. Women have proved time and again that they are more skilled with setting priorities. Women collaborate well with the staff as well as people. They enjoy meeting up new people and explaining to them how to do something in the best possible way. Also, women usually enjoy networking; this ensures efficient communication between franchisee and the franchisor. These skills complement with the franchising business.
Moreover, banks are keener on financing for a franchise than an entirely new business proposal. It is easier for the bank to calculate the potential returns from an established franchise rather than a completely new venture with no track record.
Thus, franchising can be a great career option for women who want to be self-employed.
We at Talent Corner offer all the aspiring women, the opportunity to work with us by taking up our Recruitment Franchise. You can contact us for more information or visit us in our next exhibition participation in your city. Contact us on: http://talentcorner.in/contact-us[/vc_column_text][/vc_column][/vc_row]