Tamil Nadu India's economic powerhouse
Tamil Nadu India's economic powerhouse
Tamil Nadu is the fourth largest state of India. It has a diversified manufacturing sector and features among the leading states in several industries like automobiles, components, engineering, pharmaceuticals, garments, textile products, leather products, chemicals, plastics, etc. It ranks first among the states in terms of number of factories and industrial workers.
Tamil Nadu Industrial Development Corporation Ltd (TIDCO), State Industries Promotion Corporation of Tamil Nadu (SIPCOT), Tamil Nadu Industrial Investment Corporation Limited (TIIC), and Tamil Nadu Small Industries Development Corporation Limited (TANSIDCO) are jointly developing industrial infrastructure in the state.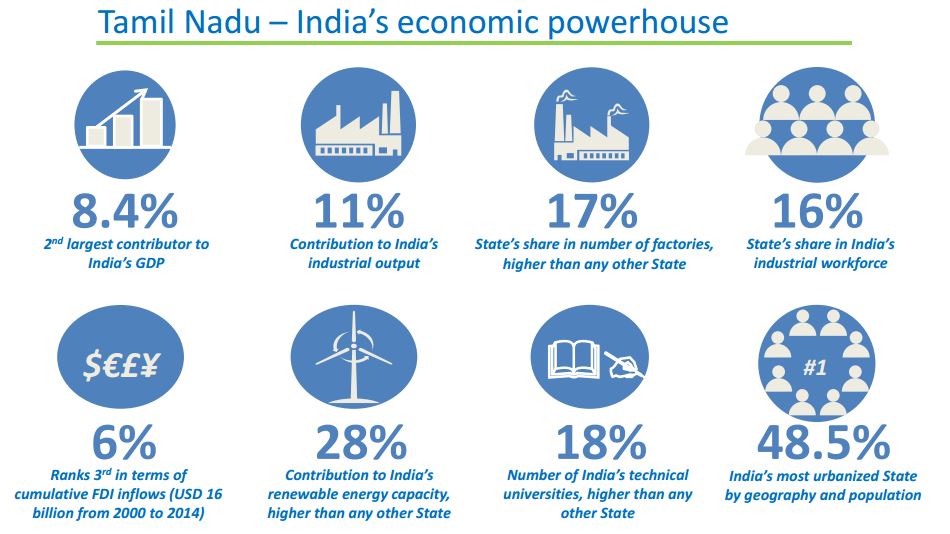 Between 2004-05 and 2015-16, Gross State Domestic Product (GSDP) expanded at a Compound Annual Growth Rate (CAGR) of 12.31 per cent to US$ 175.33 billion whereas the Net State Domestic Product (NSDP) expanded at a CAGR of 12.84 per cent to US$ 163.12 billion.
Tamil Nadu Industrial Guidance & Export Promotion Bureau has been set up with the objective of attracting major investment proposals into Tamil Nadu.
Some of the major initiatives taken by the government to promote Tamil Nadu as an investment destination are:
In the 2015-16 budget, the state government announced plans to invest US$ 2.11 billion for the development of power infrastructure in the state.

For 2015-16, Chennai and Coimbatore have been chosen under the programme of Smart Cities by Government of India. Further, the state government has allocated US$ 61.10 million for the smart cities programme and US$ 76.38 million for AMRUT, as per the interim budget 2016-17.

The Government of Tamil Nadu is planning to increase the automobile manufacturing capacity to 5.8 million units by 2020.

The government is continuously working on developing strong IT infrastructure in order to support the development of hardware and software industries. In the 2016-17 budget, US$ 20.66 million was allocated for the Information Technology Department.

In 2015, the state government announced plans to set up four mega food parks in the state. The state government of Tamilnadu has released an amount of US$ 5 million for this project.

Tamil Nadu Vision 2023 envisages an investment of US$ 27.7 billion for improving highways. Chennai is slated to get 17 new projects worth US$ 334.8 million.

The Government of Tamil Nadu has unveiled an automobile policy which would focus on future development and consolidation of the automobile and components industry, where the state enjoys a comparative advantage.

Upgradation of ~145 km road to 4 lanes has been planned to be undertaken under PPP (Public-Private-Partnership) mode.

Tamil Nadu Government has signed Memorandums of Understanding (MoUs) with five auto companies – Daimler India Commercial Vehicles, India Yamaha Motor, Ashok Leyland-Nissan, Eicher Motors and Philips Carbon Black – for an investment of up to US$ 1.7 billion in the state.

In order to attract more investment in hardware manufacturing, the state has set up an expert committee with representatives from the industry to evaluate the potential and advise the government on the way forward.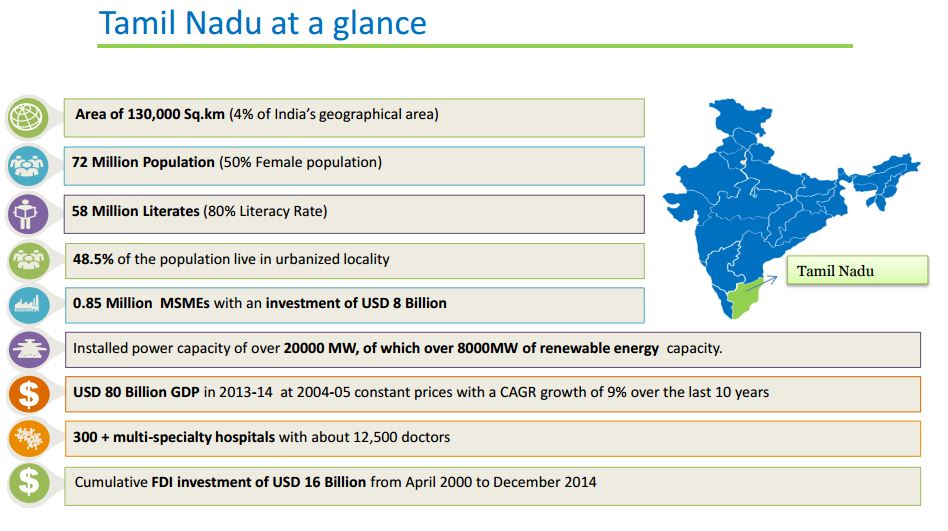 Core Sectors
Tamil Nadu has historically been attracting investments in textiles, leather, automobiles, autocar components, finance and IT. Renewable energy is another sector where the state attracts a substantial amount of investment; also the automobile sector continues to remain one of our most attractive segments for our investors. Over the years, various automobile companies have been signing agreements with the state government for setting up large projects.
The core sectors of Tamil Nadu are:
Auto components

IT and ITES

Biotechnology and Pharmaceuticals

Heavy Engineering

Infrastructure

Electronic Order manufactures

Renewable energy

Aerospace
The state has the highest number of business enterprises that is about 10.56 per cent and is second in total employment in India that is around 9.97 per cent. Many heavy engineering and manufacturing-based industries are located in and around Chennai which is why the area is also called "The Detroit of Asia". Global auto giants like Hyundai, Ford, BMW, Caterpillar and Mitsubishi as well as domestic heavyweights like MRF, Ashok Leyland, TI cycles of India, Mahindra and Mahindra, Royal Enfield, TVS and TAFE Tractors have their manufacturing units around Chennai.