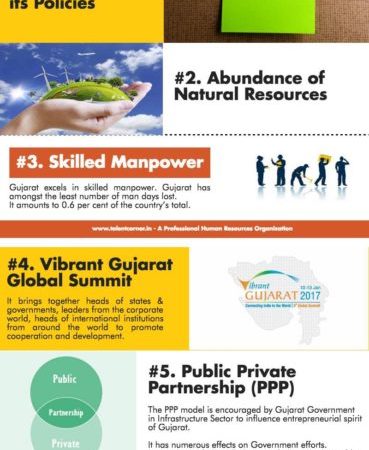 Investor friendly destination in India – Gujarat
Gujarat is recognized for its vibrancy and entrepreneurial spirit and is one of India's leading states in industry and commerce. It plays a pivotal role in the fast altering business dynamics of India to meet the globalization drive. Gujarat has been and continues to be the pride of India from an economic, cultural and social development perspective. The State has a richly varied heritage of culture and art which has its roots in rural areas.
Gujarat is becoming the fastest growing infrastructure hub of the country. The fact is that Gujarat is growing at a pace of nearly 12% compared to the country's GDP growth of 8.8%. Ahmedabad being the largest city of Gujarat has a tremendous potential for future growth. Forbes list of the world's fastest growing cities included Ahmedabad at number 3.
Ahmedabad is the second largest industrial center in western India. It has a blooming pharmaceuticals and chemicals industry. Two of the largest pharmaceutical companies of Torrent Pharmaceuticals India and Zydus Cadila are located in the city. Gujarat has an inherent Entrepreneurial spirit. Depending on the investment environment there are several factors that influence investment opportunities in Gujarat few of them are listed below:
1. Proactive Government and its policies
Gujarat's government plays a pivotal role in its industrial growth. The Gujarat Government has undertaken several policies that aim to promote overall development of the economy. Gujarat Government has incredible development plans The Delhi-Mumbai Industrial Corridor (DMIC) is strategically planned Project of the Government 18 Regions of Gujarat. It is spread along 1483 kms. Gujarat has further launched specific policies that cater to the development of specific sectors such as roads, ports, Information Technology, biotechnology, and agriculture.
2. Abundance of Natural Resources
Gujarat is the "petrocapital" State of India. It is rich in its mineral base. It has a tremendous growth in Agriculture field with ac 9.6% expansion in its farm production. Industries hugely rely on these naturally available resources.
3. Skilled Manpower
Gujarat excels in skilled manpower. Gujarat has amongst the least number of man days lost. It amounts to 0.6 per cent of the country's total.
4. Vibrant Gujarat Global Summit
The government of Gujarat organizes Vibrant Gujarat Global Summit every year with the focus on Social and Economic Development. It brings together ministers, heads of states and governments, leaders from the corporate world, heads of international institutions from around the world to promote cooperation and development. It received an overwhelming response with investments of a whopping 12 lakh Crores.
5. Public Private Partnership (PPP)
The PPP model is encouraged by Gujarat Government in Infrastructure Sector to influence entrepreneurial spirit of Gujarat. It has numerous effects on Government efforts. Innovative and Mega Projects are being encouraged by the State.
6. Well connected to Mumbai and Delhi
Centrally located between the country's capital Delhi and financial capital Mumbai, Gujarat is very well connected by rail and road transport systems. The government is developing a High Speed Rail passenger corridor from Ahmedabad to Mumbai with the cooperation of the Government of Japan. Additionally, the modernisation of 20 railway stations based on PPP in Gujarat is also expected to be undertaken.
7. Well connected for International Trades
Gujarat has well developed infrastructure. Gujarat is located on the western coast of India and has the longest coastline of 1,600 km in the country. With one major port and 44 non-major ports, Gujarat has the highest number of operational and commercial cargo ports in India.
Gujarat is fast becoming the infrastructure hub of the country. Investment in Gujarat counts a major share in India's Investment ratio. Investors have ample business opportunities for various Projects.The major areas to focus on for investments in Gujarat include Gems and Jewellery, Pharma and Biotech, Petrochemicals and Chemicals, Automobile, Agriculture and food, Power, Tourism and last but not the least Information Technology.
According to firstpost report, Corporates from India and abroad pledged to invest an astonishing Rs 25 lakh crore and signed 21,000 MoUs at the Vibrant Gujarat Summit. We are expecting a huge job opportunity for skilled manpower in the coming years in the state of Gujarat and hence have made our presence in the state.