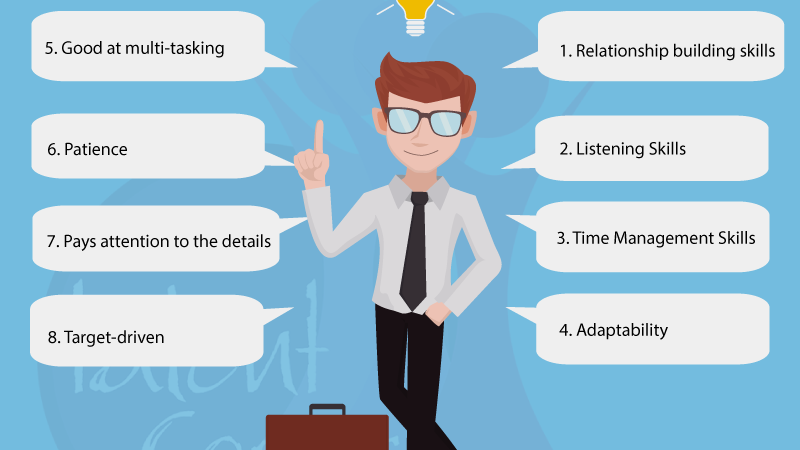 8 Tips to Be a Succesful Recruiter
8 Tips to Be a Successful Recruiter
Recruiters are human resources (HR) professionals who match candidates seeking jobs with companies searching for the perfect fit to fill their open position. Even if you've never considered a career that's focused on finding careers for other people, there are plenty of perks that'll have you thinking this career path would be a great fit.
Here are the 8 Attributes mentioned of a person required to Start their Own Recruitment Business or to become a Successful Recruitment Consultant: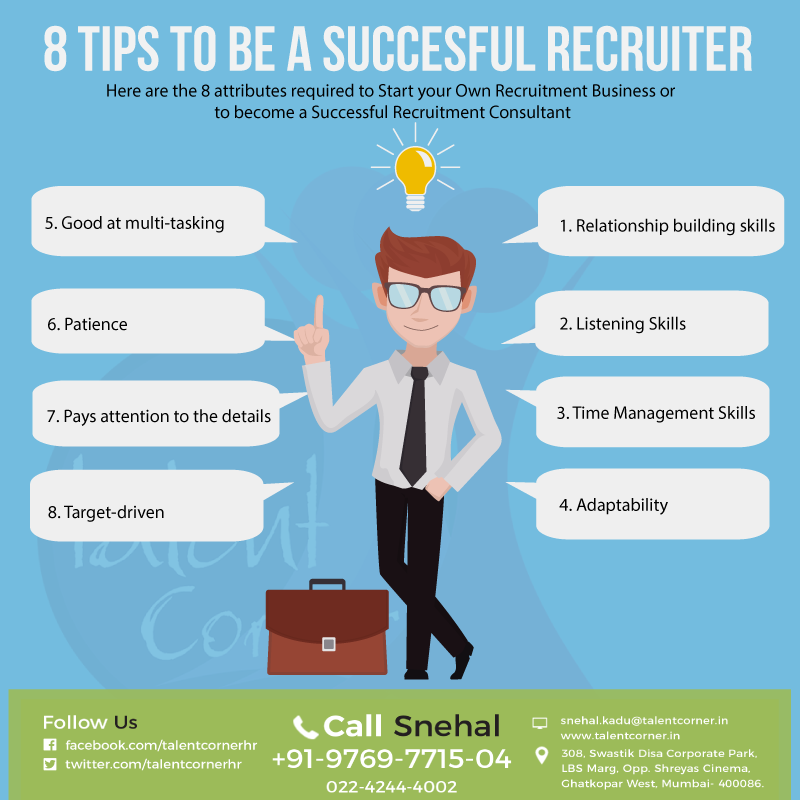 1. Relationship building skills
A recruiter works in the "people business" and deals with a variety of different people on a daily basis. This person has to be a good connector, who loves to meet new people and knows how to use every opportunity to network and to turn it into business results.
It will allow you to build trust and attract clients as well as jobseekers more easily. Once you gained their trust and they notice that you work professionally, effectively and reliably, they will come back again and again without looking any further. It will also save you time because you can focus on your existing clients rather than having to chase constantly new ones.
Also, don't underestimate the good relationship you have built with your job seekers. If they are happy with the job you were able to find for them, they will recommend you to their friends and family too, should they ever need a job in the future. 
2. Listening Skills
For a Recruitment Consultant, it is important to be a great listener. Only if you listen carefully and thoroughly to both, the job seeker and the client, you will be able to understand what their needs are. The more you listen to them, the more you will find out. The more you ask them, the more you will know. So, the better you know what the client and job seekers are looking for, the easier it will be to find the perfect match. This will allow you to make better decisions and find the perfect match over and over again.  
The client and candidate expect to be kept in the loop throughout the recruitment process, so it's essential that the recruiter provides them with frequent updates and works as a middleman between the two
3. Time Management Skills
Successful recruiters are judicious with their time. They know how to shift priorities based on what is happening during the day. They are focused on being productive versus being busy. A more prudent use of time is to organize your day around activities that produce results.
4. Adaptability
The skill to adapt, change and be flexible is a key quality possessed by the best recruiters. You need to adapt your communication style depending on your client's or candidate's needs, shift your approach based on changes in the job world and be ready to learn about new technologies that affect the markets you serve. If you are rigid and have a hard time shifting your thinking, recruiting may be difficult for you.
5. Good at multi-tasking
Recruiters will often be working on a number of jobs at the same time, from a series of different clients, so they need to be able to juggle the different projects alongside each other. Sometimes certain roles may need to be prioritised due to a higher level of urgency to fill the position, so they must also be good at managing their time effectively.
6. Patience
Things don't often go to plan and the recruiter must be patient if interviews need to be rescheduled, or they don't find the right person on the first round. Though this can sometimes be frustrating, it's important to keep your cool and be professional about it.
7. Pays attention to the details.
Remember that none of the parties involved have to work with you as a recruiter.  They should want to work with you because you make the process easier, faster, and more successful. This is only true if you take a detail-oriented approach to providing quality service.
8. Target-driven:
The recruitment industry is particularly competitive and target-driven, therefore, it is essential that the recruiter can handle pressure very well, is target-oriented, ambitious and hungry for results. Recruitment agencies usually offer basic salaries and additional performance-related payments, also called OTE – on target earnings. If you are not a target driven person you should seriously reconsider whether this is the right job for you.
A career in recruiting can be challenging, but if you have what it takes, the rewards are worth it.
If you have the temperament and attributes shared by the best recruiters, contact us to start a Recruitment Business of your Own.
If you are interested in Franchising with us, share your details below and we will get in touch with you. 
For more information, visit our Franchise Section : http://talentcorner.in/franchise-at-talent-corner/