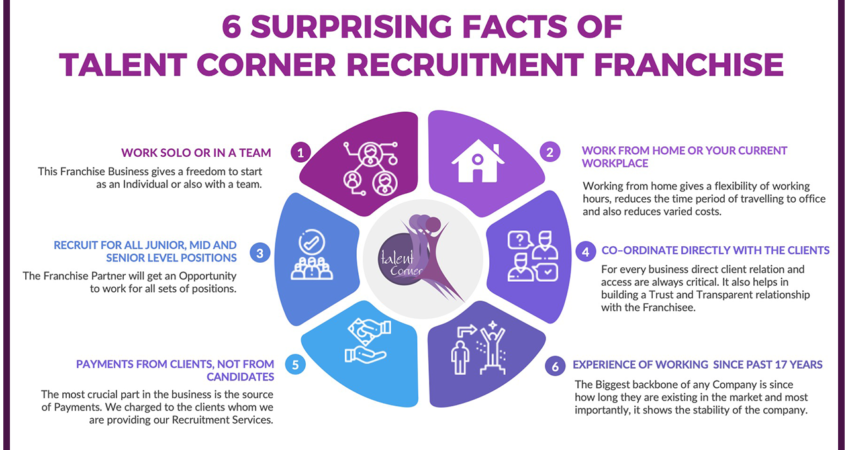 6 Surprising Facts Of Talent Corner Recruitment Franchise
Work alone or in a team
This Franchise Business gives freedom to start as an Individual or also with a team. Both the form have got their own benefits as Starting Alone will help you to understand the business from the roots of it and also the Challenges which are there in recruitment cycle and also how to overcome the same which will be required in Managing a Team & running a Business.
Work from the comforts of your Home.
Working from home gives flexibility of working hours, reduces the time period of traveling to the office and also reduces varied costs as Capital Investment, Working capital and Perks to add is you get more Family Time.
Recruit for all Junior, Mid and Senior Level Positions.
The Franchise Partner will get an Opportunity to work for all sets of positions. So this will be a more balanced way to do the Recruitment Business. As the recruitment cycle for junior level and mid-level will be smaller and you can earn Good Potential Revenue while doing Senior Level Positions.
Co-ordinate directly with the clients.
For every business direct client relation and access are always critical. When you get a chance to directly interacting with the client then you are always aware of the client's expectations and the thought process. You also get an opportunity to understand the client's business and expectations in a better manner.
It also helps in building a Trust and Transparent relationship with the Franchisee.
Payments from Clients, NOT from candidates
The most crucial part of the business is the source of Payments. We charged to the clients whom we are providing our Recruitment Services. This reduces the Bad debts in payments as it is from a Corporate Company and not from an Individual.
Experience of working since past 17 Years
The Biggest backbone of any Company is since how long they are existing in the market. Longer Existence in the market makes a company to understand the ups and downs of the Market as well it is able to analyze the Market Opportunities and Threats which will help in guiding the Partners to run the business.