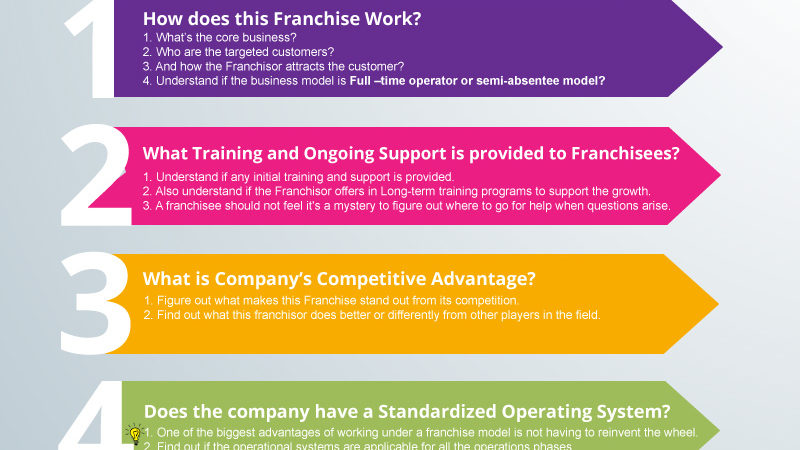 4 Key Question to ask to the Franchisor Before taking any new Franchise
A franchise model works on the proven Operational Business Model developed by the Franchisor / Brand.
When we receive your contact details as a prospective Franchisee then our representative shares all the relevant details with you. We know that they are also in touch with you at regular intervals. These regular follow-ups help us to understand your needs, approach etc. We believe that this is a mutual Discovery – Process where both the parties begin to know each other. This process also helps both of us to see what the other brings to the table and what he or she is looking for.
We will want to know if you have what it takes from personal, professional and financial standpoints. As a Franchisee, you'll wish to know if operating a franchise provides the means to an enjoyable work life, an attractive financial return and a balanced lifestyle.
We are sure you will be having plenty of questions in your mind. But during the process, please ensure that at least you should be asking below mentioned 4 Must Questions to your Franchisor.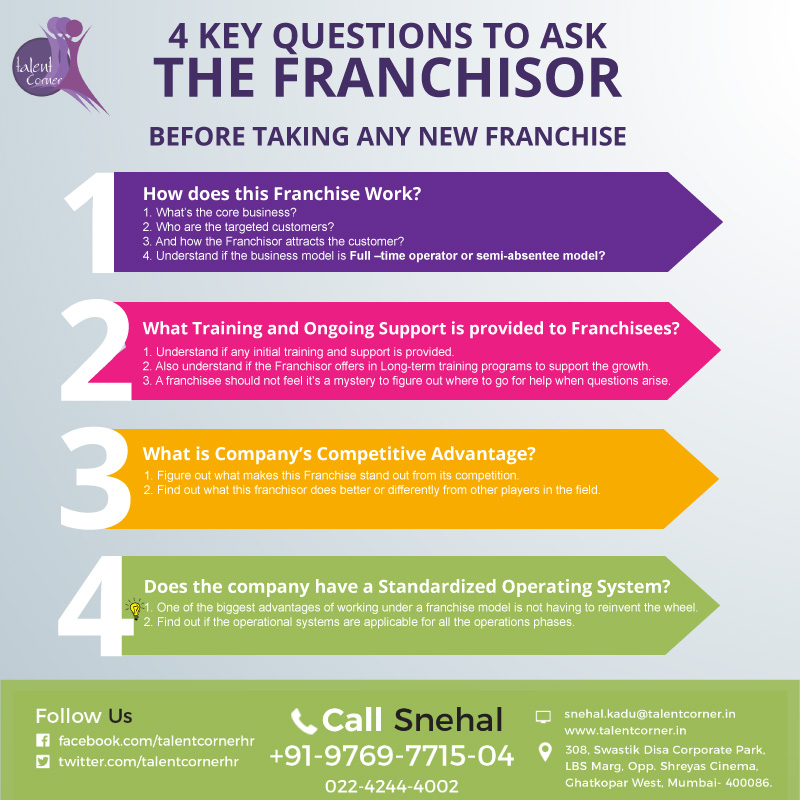 1. How does this Franchise Work?
What's the core business?
Who are the targeted customers?
And how the Franchisor attracts the customer?
Understand if the business model is Full –time operator or semi-absentee model.
2. What Training and Ongoing Support is provided Franchisees?
Understand if any initial training and support is provided.
Also understand if the Franchisor offers in Long-term training programs to support the growth.
A franchisee should not feel it's a mystery to figure out where to go for help when questions arise.
3. What is Company's Competitive Advantage?
Figure out what makes this franchise stand out from its competition.
Find out what this franchisor does better or differently from other players in the field.
4. Does the company have a standardized operating system?
One of the biggest advantages of working under a franchise model is not having to reinvent the wheel.
Find out if the operational systems are applicable for all the operations phases.
Enjoy your exciting exploration of franchising and keep an open mind as you discover the possibilities. And please remember we are always happy to help you.
Regards,
Preshita Rane
Assitant Manager – Franchise
Talent Corner HR services Pvt. Ltd.
If you are interested in Franchising with us, share your details below and we will get in touch with you. 
For more information, visit our Franchise Section : http://talentcorner.in/franchise-at-talent-corner/